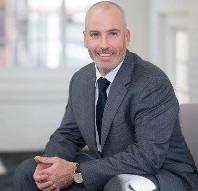 Past President's Message
By Paul R. Foley, PLS, COO, Feldman Land Surveyors
MALSCE Past President
Two years ago, I was given the opportunity to lead our association and it has been one of the most rewarding experiences of my career. Focusing on updating our bylaws, developing best practice guidelines for 3D services, and fostering membership engagement were what I felt to be the most important issues facing our profession. And, I was very fortunate to have an experienced and dedicated executive committee to help me along the way.
In my role as past president I look forward to focusing on professional development and how to better serve our members with accessible and relevant workshops and seminars.
Thank you to all of the MALSCE volunteers who continue to contribute to our association. You are the reason we have stayed relevant and enjoyed success.
I would also like to thank the TECET staff - Elizabeth Tyminski, Abbie Goodman and Emily Devane for all of their help in keeping our association running smoothly. Last but certainly not least, a special thank you to our executive director, Rich Keenan. As many of you know, Rich is the one working tirelessly behind the scenes keeping the President and the board of directors focused on the things that matter.
With Darren Hardy now our president, I look forward to seeing his vision unfold over the coming years. His is passionate and invested in growing leaders in our industry. He is focused on the things that make us better as an association and as professionals. We are in good hands.
Thank you for having me.
All the best,
Paul