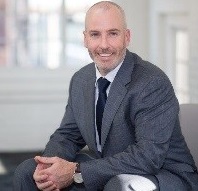 By Paul R. Foley, PLS, COO, Feldman Land Surveyors
2017-2019 MALSCE President
Becoming MALSCE president during the 2017 MALSCE Convention was not something I would have imagined five years ago, but having spent the last three years with the Executive Committee I can surely say it's a unique opportunity to see up close how our surveying and engineering professions operate on a large scale. This is a chance to give back to our industries, and I am honored and excited to be granted this position.
I would like to genuinely thank our now past president, Sean Ewald, PLS, for all of the time and effort he has donated to our cause. He has set a high bar with how he led our association with competence and efficiency. We owe Sean and all of our past presidents our sincere gratitude for their service.
With continued support from our committed association manager, Rich Keenan and the great staff at TECET, we are well-positioned to build on our progress from the last few years.
The fabric of MALSCE is in the generosity of its members – the time you donate to enhancing our profession. Those of you who have and continue to volunteer on MALSCE and Chapter boards and many committees, councils and task forces, are what tie us together and make us much more than competitors – you are our bond.
Our Executive Committee members are energized and excited to bring our objectives to the membership. At this year's convention we started to lay out the following goals:
Increase Membership Engagement

We will listen to the ideas and opinions of our members. We are here to help put your suggestions into action. We welcome input from all levels and we want to hear from you and give you the opportunity to advance a topic that you are passionate about. This topic may be the subject of a short article that we include in our newsletter, the focus of a dinner meeting or seminar, or a matter you'd like to discuss during a MALSCE Board of Directors meeting, but this is the engagement that will ensure MALSCE will grow and only become more relevant.

Create HDS & 3D Survey Standards

Concerns from clients and colleagues on wildly varying levels of accuracy and content, and the current lack of standards with respect to laser scanning, lidar and BIM technologies are the catalysts behind the creation of the High Definition Surveying and 3D Survey Standards Committee. The goal of the committee is to create a set of standards that will ensure the public's safety in much of the same way that 250 CMR does while at the same time ensuring that these technologies remain in the surveying profession where they are best served.

This committee will be chaired by Stephen Wilkes (Feldman) who will be joined by the following members: David Prince (WSP), Bob Staples, PLS (DGT), Andy Street, PE (Civil View), and Dan MacIsaac, PLS (Massport).

Review and Revise the MALSCE Bylaws

The MALSCE Bylaws as last amended in February 2013 contain 17 articles and 57 sections. 20 of these sections contain provisions which MALSCE and/or its chapters currently do not abide by and/or are no longer applicable to the way MALSCE or its chapters operate. Simply put, we have not operated per our bylaws for some time. It is time to revise them so they reflect how we conduct business today. The updating of our bylaws will be transparent. We will actively seek input from chapter leadership and members so that we can make these revisions a combined effort.

We are already working hard on all three of these goals, and we're gaining momentum. Please lend us your support and feedback so we can not only reach these goals but set our sights on what's to come.

I look forward to hearing from you. You can contact me at pfoley@feldmansurveyors.com.

All the best,

Paul