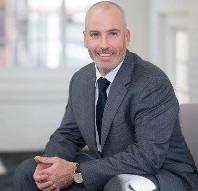 Paul R. Foley, PLS, COO, Feldman
2017-2019 MALSCE President
It has been encouraging to hear from many of you across the Commonwealth that the pace business is high and there is a lot of activity in all sectors.
Similarly, we are just as busy at MALSCE. 2018 has to date been a very good year for our association. In March, we held another highly informative, well-attended, and profitable convention, which was excellently presented by our Central Chapter. A special thank you to the Central Chapter volunteers and Convention Co-Chairs, Mark Violette and Darren Hardy, for their time, effort, and planning that went into making this event such as success.
In April, we held an Eastern Massachusetts Chapter meeting, hosted by Chapter President Joseph Vozzella. The central topic for the meeting was the discussion of revising our bylaws during this calendar year. The meeting was well attended and we enjoyed an active and lively discussion with questions, answers and comments from all in attendance. Some specifics of the bylaws were explained in greater detail, and all in all, the meeting was a great success. I encourage all members to make yourselves familiar with the draft bylaws as they will provide us with a simpler and more efficient way to run our association, giving chapters more opportunities to focus on what is important to them by lessening some of their administrative duties.
Engineers and Land Surveyors Day was held at the State House on May 15th, with MALSCE having its strongest showing in recent years. We took advantage of the opportunity to meet with state legislators to promote the issues important to our industry, such as HB4420, An Act relative to public safety in excavation, and the critical role the engineering industry plays in addressing state and municipal infrastructure needs.
On June 12th at 5:30 PM we will have our spring MALSCE Board of Directors and joint Eastern and Central Chapter dinner meeting at O'Connor's Restaurant & Bar in Worcester. We will continue the bylaws discussion, answer questions, and ultimately vote on accepting the new bylaws. For the bylaws to be ratified, we will need a two-thirds vote of members of the Board of Directors in attendance. This is the first of two consecutive board meetings during which the new bylaws will be put forth for a vote. The second will be the fall board dinner meeting in October. We are excited to have made such progress with our bylaws, and it could not have happened without the support and dedication of our Executive Committee particularly Darren Hardy (MALSCE Vice President), Sean Ewald (Past-President), Kevin Arsenault (Treasurer), Wayne Jalbert (Secretary), Joseph Vozzella (Eastern MA Chapter President). The Engineering Education Trust staff who supported this undertaking included Elizabeth Tyminski (TECET Executive Director) and our MALSCE Executive Director Rich Keenan. Each of these key members of our association has devoted many hours to working on the bylaw revisions, in addition to their other MALSCE duties.
Regarding other MALSCE news, the MALSCE 3D Standards Committee will host a meeting this week and we look forward to updating membership with its progress since the convention. At 12:00 PM on June 15th, MALSCE Proprietors' Council Chair Michael Feldman will host a Proprietors' Council meeting at The Engineering Center. If you are a manager or owner of a firm, I welcome you to join this group of established professionals for some thought-provoking and engaging discussion!
Lastly, some members have contacted the Executive Committee about concerns regarding remote sensing firms and how they advertise their services. As we know, to advertise and provide land surveying services, a firm must retain a professional land surveyor on staff to supervise all land surveying activities. We are taking great care to address these concerns in thoughtful and productive way with firms that may need some clarification interpreting 250 CMR and MGL Chapter 112.
As always, please feel free to reach out to me with ideas, questions or concerns regarding our association.
All the best,
Paul
pfoley@feldmansurveyors.com